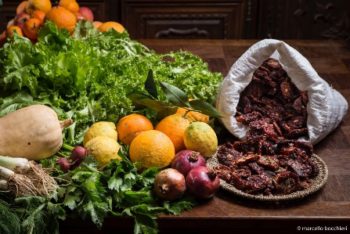 Raul Pace and Jessica Carpin of "Villa Melina, the farm as we see it", are my trusted organic vegetable suppliers.
But to tag these farms as "organic" doesn't do them justice; for their work is beyond: it reaches into the realms of biodynamics, a cultivation that is perfectly in line with the surrounding area.
"Every product is the result of seasonality, just like organic agriculture, but the difference in the biodynamic process – Raul explained to me during our frequent encounters – foresees the use of certain mineral, vegetal and animal preparations called 'biodynamic preparations.'"
In addition, they operate as a multifunctional, closed-circuit company and are thus able to produce everything internally, guaranteeing with absolute certainty that their gardens are wholly genuine.
I was further convinced of the project given the courage of Raul and Jessica. He an architectural surveyor, and she a bar manager in Padua, left their daily lives to move to Pedalino in the countryside of Comiso to pursue this company which is a lifestyle, above all else. They are very mindful of life cycles.
"For each project in the garden, we try to work following the phases of the moon. It's a practice that farmers used for centuries to organize crops, the sowing of seeds, and many other agricultural activities. Just as the phases of the moon impact love, they regulate processes found in nature. Our work is reduced to that of humble actors in this process at 'Villa Melina, the farm as we see it'."
This philosophy gives me even more inclination to bring their vegetables into my recipes onto the tables of my restaurant.
Villa Melina, the farm as we see it is located in Pedalino, district sp 4, civic number 21. If you would like to contact us for a delivery, please call (+39) 3396279085.