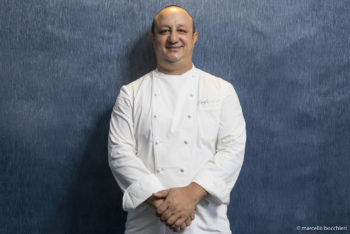 My working year beings in March and end around the Epiphany, January 6th; in this arch of time, we rotate the champagnes selected for the restaurant in a perfect relay.
The bottles purchased in the spring are opened the following year, giving them time to lose the initial shock of acid and develop further. In practice, the champagne we acquired in 2016 we will serve this year, and that purchased in 2017 will hit the table in 2018. Champagne is a wine to drink throughout the entirety of a meal, except with dessert. There is no dish that doesn't fraternize with champagne: from oysters, to pork, to fish. Like a beautiful woman, beautiful at any hour and any angle.
Currently at the Restaurant we're serving Bollinger Special Cuvée, while next year we will move to Billecart-Salmon.
The first reveals the hand of Lilly Bollinger, a grande dame of champagne. A lady of tradition, firm, but not lacking in eccentricity. Though the fruition of a cuvee that combines Pinot Noir, Chardonnay, and Pinot Meunier, the larger percentage of Pinot Noir pronounces the minerality rather than the fruit.
The latter has a notable persistence on the palate and an evolved nose – thanks to 12 months passed in the cellar – a result of the yeasts developing from scents of bread crust and grissini to something reminiscent of pastry crust.
Ciccio Sultano
a practical mind