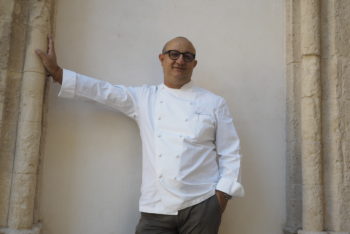 Here we have it. The kit for homemade Turiddu pasta, which Ciccio Sultano signs twice: as the author of the recipe, inspired by its original inventor, Luigi Carnacina; and as the provider of the recipe's selected ingredients. Among them, the special edition Spaghetti Cappelli from Carla Latini stands out, this year celebrating 25 years as the first pure durum wheat spaghetti in the world. To reserve your Pasta Turiddu Kit, call +39 0932 655000 or write to info@ibanchiragusa.it. Better yet, stop by and purchase directly at Via Orfanatrofio 39 or at Ristorante Ciccio Sultano, Via Capitano Bocchieri 31, Ragusa Ibla. The cost of the kit is 31,50 euros.
Recipe for Turiddu pasta (serves 4)
400 grams of spaghettone or maccherone pasta
500/700 grams Turridu sauce, abundance to your liking
50 ml extra virgin olive oil
basil and parsley as desired
fresh pepperoncino
breadcrumbs (seasoned and toasted)
Warm the Turridu sauce, made with tomato purée (from ciliegino, ramato, and piccadilly varietals), wild fennel, green olives, capers and anchovies. Remove from heat. For a more profound flavor, in a deep pan gently sauté three Nubia garlic cloves (sliced thinly) in 40 ml of extra virgin olive oil, until golden brown. After cooking the pasta al dente, transfer to a pan. Incorporate the sauce, adding pepperoncino, basil and/or parsley to taste. Finish with 50 ml of extra virgin olive oil. Check the consistency of the pasta and, if necessary, adjust the cooking water.
Serve on a plate tossed with a generous handful of toasted, seasoned breadcrumbs. If the diner desires more pepperoncini or breadcrumbs, feel free to add. Pasta Turiddu should be enjoyed "all'italiana" without forking from bottom to top, but by twirling the pasta in the sauce and delicately raising the pasta by the mouthful in order to enjoy the tactile consistency of the pasta and the acoustics of the dish, granted down to the divine crunchiness of the breadcrumbs. A musicality that fills us of life and an homage to Luigi Carnacina, the inventor of the recipe.
Ciccio Sultano
a practical mind
photo Sultano by Marco Zanella