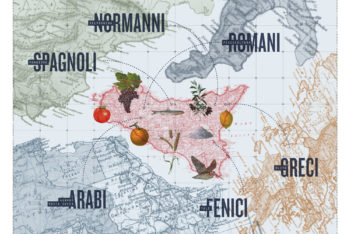 In the year in which the Ministry of Agriculture, Cultural Heritage and Tourism proclaimed 2018 the Global Year of Italian Food, we have decided to bring together the dishes that represent the various succeeded dominations of our Island in a single gastronomic summary.
A journey through Sicilian geography and the vertigo of time.
Throughout centuries, the centrality of the island and the fertility of its lands have magnetically attracted a surprising amount of foreigners who, through domination, have enriched the cultural and culinary heritage of Sicilians. Domination means legacy, not only submission.
Both new and already experimented dishes tied to a determined ingredient or typical preparation, imported to Sicily under certain rule and reworked by our means.
The dominations trace a memory map of the flavors of Sicily, a compendium of cuisine that has the Mediterranean as its cradle and the Middle East, Europe, and Africa as its horizon, all surrounded by land, overlooking the sea.
A sea that brings us closer rather than drawing us apart, because cooking – like sports – has no haters.
Ciccio Sultano
a practical mind