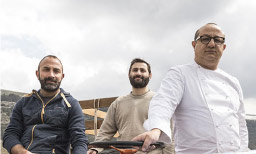 L'Aia Gaia
'For me, having the best produce, and meat, and eggs, and everything else means coming full circle with what they are and what I do. L'Aia Gaia is my long-term project, and not only in a business sense. It's my way of exploring the possibility, at some point, of pursuing the second half of my life in the countryside.'
L'Aia Gaia – a "happy farmyard" as the Italian name suggests – is a pilot project for the production of eggs and poultry, founded with the desire to increase awareness about bio-sustainable breeding grounds for chickens and hens. Sultano works in collaboration with agronomists Carmelo Cilia (a selector of fine cheeses and charcuterie) and Paolo Moltisanti.
The animals live on 2.5-hectare expanse of free-range, open air space in the valley underlying Ragusa Ibla. They are bred according to specific regime with certified, selected natural feed.
The regularly rotated areas are sown with clovers, legumes and grasses, ensuring better living conditions that are reflected in the extreme quality of the finished product.