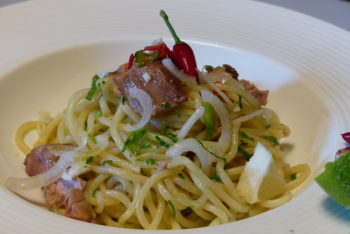 Up until the first days of July you can taste the best Bluefin tuna of the year, the one caught during its voyage from the Atlantic to our Mediterranean sea. So what better than a plate of pasta with fresh tuna and lemon to leave you with the taste of summer? A plate to pair with Chardonnay from Tasca d'Almerita, 2015. A triumph of softness, a real chardonnay fit for a king.
Ciccio Sultano
a practical mind
Recipe for pasta with fresh tuna and lemon, serves 4:
400g of spaghettoni (thick-cut spaghetti)
For oil-based emulsion sauce:
1 clove garlic, fresh thyme, salt, black pepper, extra virgin olive oil
200g tuna fillet, cut in cubes
200g extra virgin olive oil emulsion (emulsify 70g soy milk with 140g olive oil, 5g mustard, 1 oil-packed anchovy)
a few pieces of raw lemon, peeled
Procedure:
In a pan, heat olive oil, garlic and thyme, then add tuna; sauté briefly, season with salt and pepper and add olive oil emulsion; remove from heat.
For the potato purée:
100g peeled potatoes, cut in slices
25g raw onion, diced
olive oil and salt to season
vegetable broth
Procedure:
In a saucepan, brown onion in olive oil, adding the potatoes and broth: cook, kneading until smooth. Season with salt, then whisk.
For the red onion salad:
2 red onions from Tropea cooked in agrodolce
2 lemons, peeled
50g of capers (rinsed of salt)
extra virgin olive oil, salt, chili flake, oregano
Procedure:
Julienne the onion, add sliced lemons, capers, chili flake, oregano, and season with salt. Set aside.
Plating:
Cook the pasta in boiling water with salt, drain and toss with olive oil emulsion. Layer the bottom of 4 plates with the potato purée, add pasta, tuna, and finish with onion salad.