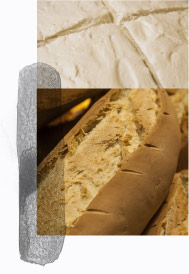 I Banchi
'I Banchi is an idea that has matured for a long time, one that I've turned over and over in my mind since 2009,' affirms Ciccio Sultano. 'Only when I felt it was truly ready did we press go.' The concept was realized quickly and inaugurated in July of 2015 in the monumental spaces of the "carrozzeria" and cellars of 18th century Palazzo Di Quattro – a baroque jewel in the heart of Ragusa – enlightened by architect Fabrizio Foti. It's a place open morning until night, that puts everything together: a bakery, pastry counter, bar, emporium, pizzeria, restaurant, wine shop.
'At the center of this project is bread, a daily staple. The Greeks called man "bread eater," an ancient sign of civilization. This is how I conceptualize it. The care we put into kneading bread, from using ancient flours to particular rising times, constantly reflects in what we do here and at the restaurant. It's not a trade, but a way of life.'
What are I Banchi? Banchi were, first and foremost, bread counters, but not only – they take all kinds of shapes and colors, from great cheese counters to traditional salumi counters, to pastry bars and wine bars – both Sicilian and international – at the same time representing an elegant and contemporary evolution of the concept of the trattoria.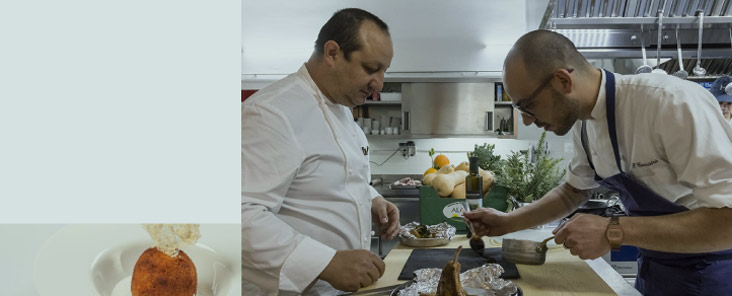 A place to have breakfast and think about your daily shopping, to buy a snack or to choose between single bean or blended coffees, to sit in front of a cocktail list that blends classic with experimental along with natural wines, or to order a cake for a special occasion. A place to enjoy with company whether for a work lunch or an intimate dinner.
Ciccio Sultano declares I Banchi a successful experiment in "food education" that looks straight into the eyes of haute cuisine, focusing on something that the latter does not: that informal, convivial aspect that is downright cheerful.
The concrete results are due in large part to the foresight of Peppe Cannistrà, partner of Sultano and head of I Banchi.
www.ibanchiragusa.it